Cutting Optimizer
Cutting Optimizer is a leading solution for optimization in cutting rectangular shapes.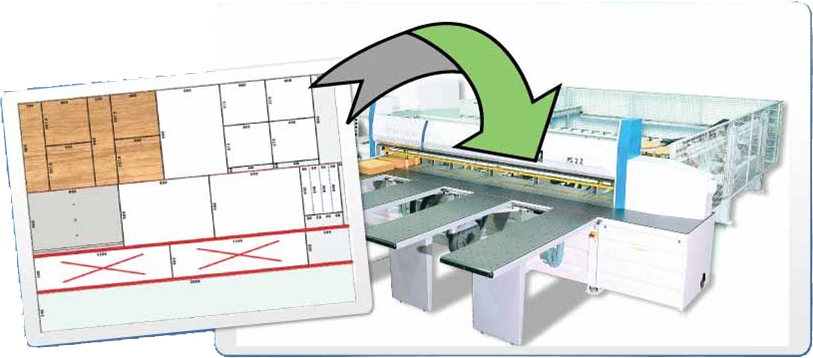 The different versions are sold all over the world and are developed according to your needs. If you have to face regularly the optimization in cutting rectangular shapes, you should have a look at this product. It is adapted to the needs of small businesses as well as for biggest ones where CNC machines are in use.
Cutting Optimizer
Advantages
| The main advantages of Cutting Optimizer | Technical | Financial |
| --- | --- | --- |
| EEN OPTIMIZATION AVAILABLE AS FROM 660 € | | |
| Considerable time sparing in the estimation of the numbers of panels needed for production | | |
| Placing of exact orders with the providers | | |
| Costs reduced thanks to the use of less row material en thanks to less time spent with the calculation of the plans | | |
| Reducing and elimination of the errors when transferring to the machines | | |
| Increasing of productivity and efficiency thanks to clear and precise drawings | | |
| You reduce your stock | | |
| Evolution allowed to another program | | |
| No education needed for basic versions | | |
| Clear and quick identification of all kinds of panels in stock thanks to the labels | | |
| Automatic use thanks to the links with Arkey and Cabinet Vision... | | |
| ... | | |
Cutting Optimizer
Testimonials
Cutting Optimizer
Options
Basic or Starter Optimizer
Meant for limited use.
Requires no training.
Mainly used in the workcentre by machine employees.
Easy Optimizer
Most used in offices and for multiple use on the work floor.
Works with structure and has fewer restraints than the Basic Optimizer.
Data input with copy and paste.
Basic program for panel saws.
Cutting Optimizer
Data integration most important.
Complete data print adapted to each situation.
Optimal machine linking & integration.
Suitable information for every step in the production process.
Communication with other systems.
Cutting Optimizer
Learn more
Cutting Optimizer
Pictures